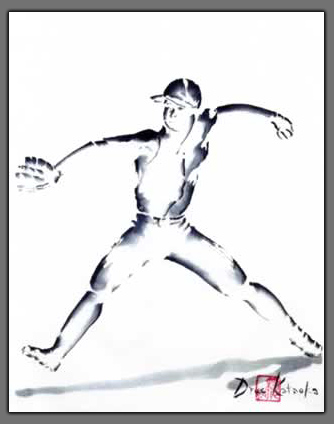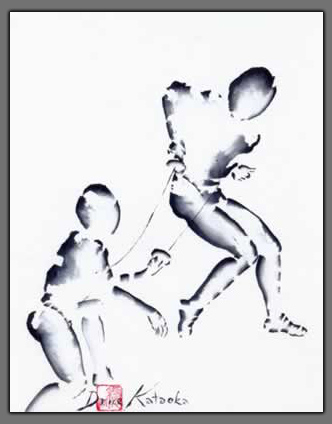 Sports Paintings
In Sumi-e, as in sports, you've got one chance, and there is no instant replay. -Drue
High-Profile Sports Projects
Motion in Drue's Sumi-e Sports Paintings
Monumental and Personal
Private Sports Commissions
High-Profile Sports Projects
Drue's sports paintings have been covered by the national media (CNN, USA Today) and local NBC, CBS, and ABC affiliates. Explosive Movement, her 4-year exhibition of 50 sports paintings in the Arrillaga Familly Sports Center at Stanford University, drew many visitors and critical acclaim. The Department of Athletics commissioned Drue to create numerous limited edition prints. On the anniversary of the 100th Stanford/Cal Big Game, she created Kick Off 100 to commemorate the storied rivalry of the two universities. The print sold out at the historic game: Stanford 21, Cal 20. For the 1998 Men's Basketball Run to the Final Four, she created Art of the Steal. To celebrate 25 years of Stanford Women's Basketball, she created a six-part series entitled Guarding the Tradition. For men's golf she createdBig Game Tee Time and Cardinal Native: Notah Begay III as well asTee for Two and Fairway to the 21st for the Cal/Stanford Celebrity Golf Invitational at Wente Vineyards. Her print commemorating legendary quarterbacks John Elway and Jim Plunkett was entitledStanford Legends. Tennis luminary Martina Hingis commissioned Drue to paint her portrait. After painting Celestial Tennis: Portrait of Venus Williams, Drue gave Venus Williams a Sumi-e lesson covered by the Korel Tour feed.

 
Denver Broncos great, Hall of Fame quarterback and Stanford Legend John Elway talks with Drue on Stanford's sidelines
Motion in Drue's Sumi-e Sports Paintings
The crack of the bat. The swish of the net. The rhythm of the ball. The clashing of helmets. Drue captures the explosive energy and beauty of sports motion. Applying her profound understanding of the dynamic flow of a Zen art form, she transforms a fleeting motion into ebony ink. Her technique involves internalizing the gesture and unleashing the power inside of it in her brush strokes. In Competition Cool, a swimmer parts the glistening surface leaving an effervescent wake. In Pitcher Perfect the brush strokes compress the energy of the baseball at its moment of release. In Sumi Slopes the play of negative white space envelops and propels a skier downhill.
Monumental and Personal
Sports are an epic spectacle, a modern-day battlefield of wills, strength and skill. With its roots in Zen and the Samurai tradition, Drue's art is uniquely suited to depict the heroic efforts of athletes. Drue has interacted with and painted some of the great sports icons of our time. With her brush she captures the monumental side of larger-than-life personalities, but also the internal essence not shown in the sports limelight. Her conversations spanning 5 years with one of the most legendary Coaches in football history culminated in Portrait of Bill Walsh, East Meets West Coast Offense. At his unveiling, he said to Drue, "You've captured me as no one else has." Similarly, tennis star Venus Williams felt Drue had caught her characteristic focus and style. Upon seeing her portrait Venus commented, "That's me when I get serious!" Drue grappled with football history past and present in preparing to paint John Elway. "I recall talking with the Super Bowl legend on the Stanford sidelines at Big Game. He was looking into the future of Stanford football and at the same time remembering the glorious moments in Stanford's stadium."
Private Sports Commissions
In many of Drue's private portrait commissions, clients request a sports theme or setting. She has painted celebrity athletes, CEOs, sons, brothers, sisters playing their cherished sport. Much more dynamic than a still photograph, Drue's private sports commissions offer the ultimate way to honor or celebrate someone, preserving their legacy and sharing a classic moment or pose.
Baseball Painting "Rise and Shine"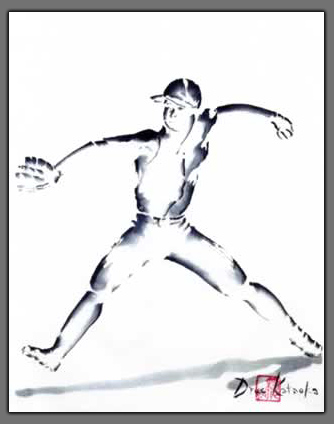 Baseball Painting "Pitcher Perfect"
Portrait of Coach Bill Walsh Legendary San Francisco 49ers Coach
Cross Country Running Painting "Star Tracks"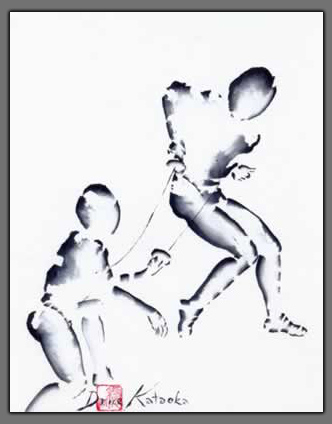 Fencing Painting "Don't Fence Me In"
Football Painting "Stanford at the Rose Ball 2000: Cardinal Rose"
Golf Painting "Once Upon a Tee"
Gymnastics Painting "Horsin' Around"
Ice Skating Painting "Iced Indigo"
http://drue.net/sports-painting-crew-rowing-crews-control.htm
Skiing Painting "Sumi Slopes"
Soccer Painting "Back to the Head"
Softball Painting "Diamonds Are a Girl's Best Friend"
Surfing Painting "Sumi Surf Session"
Swimming Painting "Cool Swimmer"
Portrait of Venus Williams "Celestial Tennis"
Volleyball Painting "Silicon Valley Networking"